Frequently Asked Questions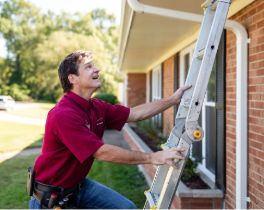 Q: As a buyer, why do I need a professional Home Inspection?
A: A home inspection by an ASHI Certified professional Home Inspector is intended to provide you with information regarding the systems and components of the home at the time of the Home Inspection.

Many homebuyers are not completely familiar with all the systems a typical home requires to function as designed. Obviously, heating and cooling systems are much more complicated than a simple thermostat. That is just one example of why the advice of a professional can be extremely useful. A highly qualified professional Home Inspector will provide much more information than most homeowners are aware of.
Q: Exactly what do I get from my Home Inspection?
You will get an in-depth visual examination from the base of the foundation to the peak of the roof. Your inspection, accompanied by a written report, will provide you enough information so that you can make an informed decision regarding what is one of the most important decisions of your life.

Major systems are covered in depth. The Inspector will carefully look over your Heating and Cooling System components and run them whenever possible to see if they are functioning as designed. Details such as temperature differentials and vent design will be checked, as well. The roof will be inspected by walking it when it is safe and readily accessible to do so. The Foundation and other related structural components will be examined in addition to the Main Electrical Panel. It is common for the Inspector to turn on all the faucets for several minutes to see how they react while functioning.

Both interior and exterior issues are addressed. The attic will be viewed as well as possible to supply the client with information about ventilation and insulation. Room by room details are also a part of your ASHI Home Inspection experience. Systems are operated and tested while functioning whenever possible. Safety issues are a cornerstone of our service.
Q: How long will this take?
It usually takes 2 hours or more to get an impartial, professional opinion on the structure and operating components of your home. Much of this time is spent communicating with the client to make sure the findings of the inspection are completely understood.